WordPress Job Board Plugin - JobWP
JobWP is the Easiest Job Board and Recruitment Plugin for WordPress to display job listing in a career page.
This plugin also allows applicants to apply for a job with an application popup form in your WordPress Website.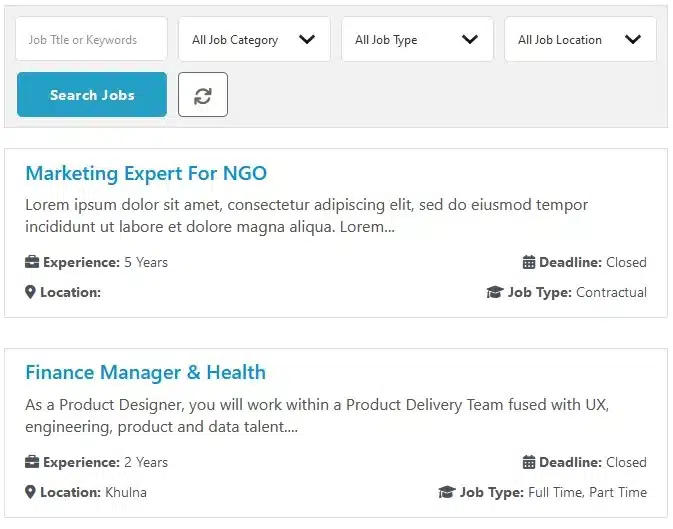 Trusted by 700+ Customers worldwide:


#1 Easiest WordPress Job Board Plugin
JobWP is a simple, effective and powerful plugin to display your Job List
Create Clean, Modern & Responsive Job Listing
JobWP allows you to build a job listing page in minutes.
All you actually need to do is add the job information and display it on your webpage using a shortcode.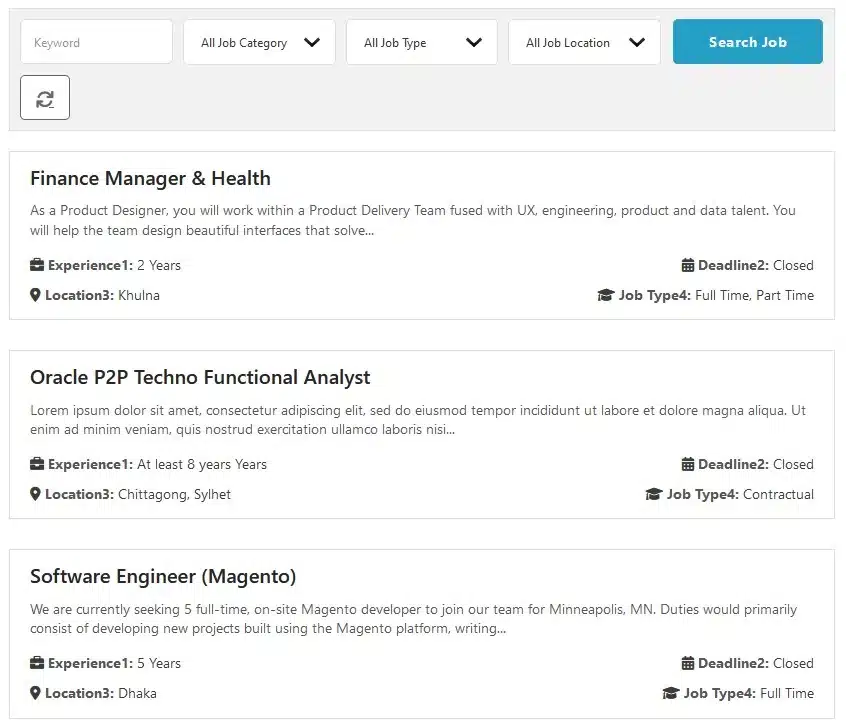 Multiple Way of Job Application
JobWP allows you to set job applicaiton form for the applicants in various way.

You can set the in-biult job applciaiton form or you can use a third party form like WPForms, Contact Form-7 etc.
Instant Notification Email for Both Admin and Job Applicants
An instant email will send to admin and another role based users when someone apply for a job.
The job applicant will get an acknowledgement email when he/she applies for a job.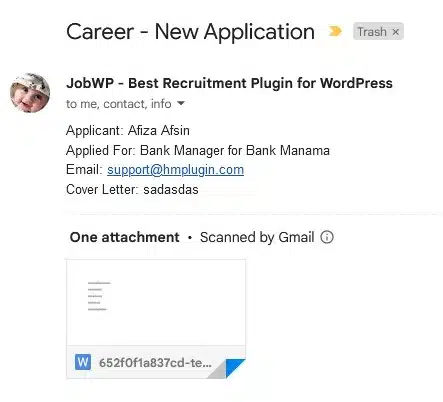 Trusted by Thousand of Users
The best thing about the Jobwp plugin is that it's super simple and easy to use. I encourage people who are looking forward to post jobs for their companies must use it.
This Job Listing WordPress Plugin is excellent. Even the online support is blazingly prompt and straight to the point. This developer is awesome. Kindly give it a trial and you'll be glad you did. I am very happy
This is amazing and sadly there aren't a lot of reviews. This is the best listing program I have ever discovered. One short code and it's done. All you have to do is start adding jobs. Thank you for creating this plugin!
I've spent a lot of time trying out various plugins to create a perfect job portal. But no matter which one I tried with, there was always something missing. And recently I found this plugin – and it's been an absolute game-changer for me!
Very helpful, tells you exactly what you need to know and responds very quick!
Thanks a lot for the great support!!
This plugin is the neatest one so far. I have tried all job board plugins, but this one is the best.
Packed with Powerful Features
Take a look at the amazing features that WordPress Recruitment Plugin offers.
Frequently Asked Questions
Do you have any questions about JobWP Plugin?
After activating the plugin, you will see "WP Jobs" in WordPress Admin Dashboard.
Firstly, Go to "Add New" and add your Job there.
Next, create a page and in the page editor put the shortcode [jobwp_listing] and Update it.
You will see a Job Listing on that page.
JobWP works with a self-hosted WordPress website.
Yes, JobWP is fully responsive. You can use it in any devices.
Absolutely not! JobWP works out of the box without any need of code intervention.
The single site license for 1 Year is 39.99$.
The Lifetime license cost is 119.99$
Yes, this plugin is fully translation ready, supporting .pot language files! You can easily translate into your language with loco translator.
We Are Open To Customize and Add More Features