Installing and activating the free JobWP plugin is similar to that of any other WordPress plugin. The easiest way is to install it right from your website.
Step 1: Install the JobWP Plugin #
Hence, log into your WordPress dashboard and navigate to the 'Plugins > Add New' menu.
On this page, search for the keyword 'JobWP' on the bar. Now, you'll find the plugin by HM Plugin in the search results. So, click on its 'Install Now' button, as shown in the screenshot below.
Step 2: Activate the JobWP Plugin #
This installs JobWP on your website, but you've got to activate it as well. Meaning, you should click on the 'Activate' button when it appears.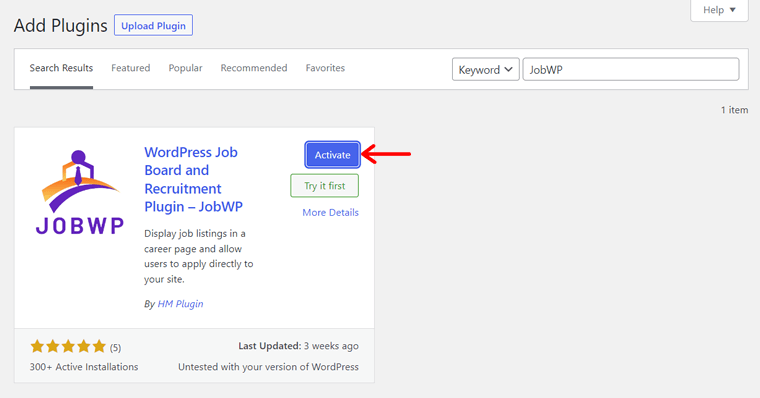 Congratulations! You've successfully installed and activated JobWP on your website.
Afterward, you can find a newly added menu on the dashboard, i.e., 'WP Jobs'. Here, you can see a notice about its updates.
So, you can click the 'Allow & Continue' button if you want to get email notifications for security and feature updates, educational content, and occasional offers. Otherwise, hit the 'Skip' button to move forward.