If you want to get a premium plan, then you must purchase it from this website. Check out the steps below!
Step 1: Purchase the JobWP Plugin #
First, click the 'Pricing' menu on the header.
On the Pricing page, you'll find the 3 different pricing options. So, pick a plan based on the number of websites you want the plugin for. Then, click its 'Purchase' button.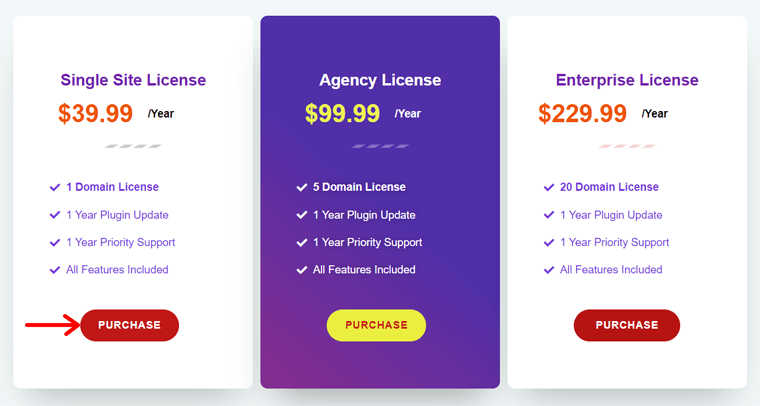 This opens a checkout page from the Freemius service. Now, select the annual or lifetime option for the plan. Then, enter the promotional code if you have one. Following that, enter your personal information, like an email address and name.
Next, choose your payment method and fill out the payment information. Lastly, click the 'Review Order' button.
Once you finish the purchase, you'll get an email with your account and payment details. Also, it contains the download link for the premium plugin and the steps to follow next. So, download the plugin, and save its activation key.
Step 2: Upload, Install, and Activate the JobWP Plugin #
Now, open your WordPress dashboard and navigate to the 'Plugins > Add New' menu. There, hit the 'Upload Plugin' button.
Next, click the 'Choose File' button and upload the downloaded ZIP file. Afterward, press the 'Install Now' button beside it.
Once the installation finishes, you must click the 'Activate' button.
Following that, you'll get the new 'WP Jobs' menu on your dashboard. There, you must insert the license key to activate the premium plugin.
So, add the license key from the email and choose if you want to receive notice of new features and updates. Lastly, click the 'Activate License' button.
Following this process, the premium JobWP plugin is ready to use on your website.